Produktinformation:

Spray drying is the technology most widely used in the liquid technology shaping and in the drying industry.The drying technology is most suitable for producing solid powder or particle products from liquid materials,such as:solution, emulsion, suspension and pumpable paste states,For this reason,when the particle size and distribution of the final products, residual water contents, mass density and the particle shape must meet the precise standard, spray drying is one of the most desired technologies.

After been filtered and heated the air enters into the air distrbutor on the top of the dryer.The hot air enters into the drying room in the spiral form and uniformly. Passing through the high-speed centrifugal sprayer on the top of the tower,the material liquid will rotate and be sprayed into the extremely fine mist liquid beads.Throug the very short time of contacting the heat air,the materials can be dried into the final products.The final products will be discharged continuously from the bottom of the drying tower and from the cyclones. The waste gas will be discharged from blower.

The drying speed is high when the material liquid is atomized,the surface area of the material will increase greatly.In the hot-air flow,95%-98% of water can be evaporated at a moment.The time of completing the drying is only several seconds. This is especially suitable for drying the heat sensitive materials.
Its final products own the good uniformity, flow ability & solubility. And the final products are high in purity and good in quality.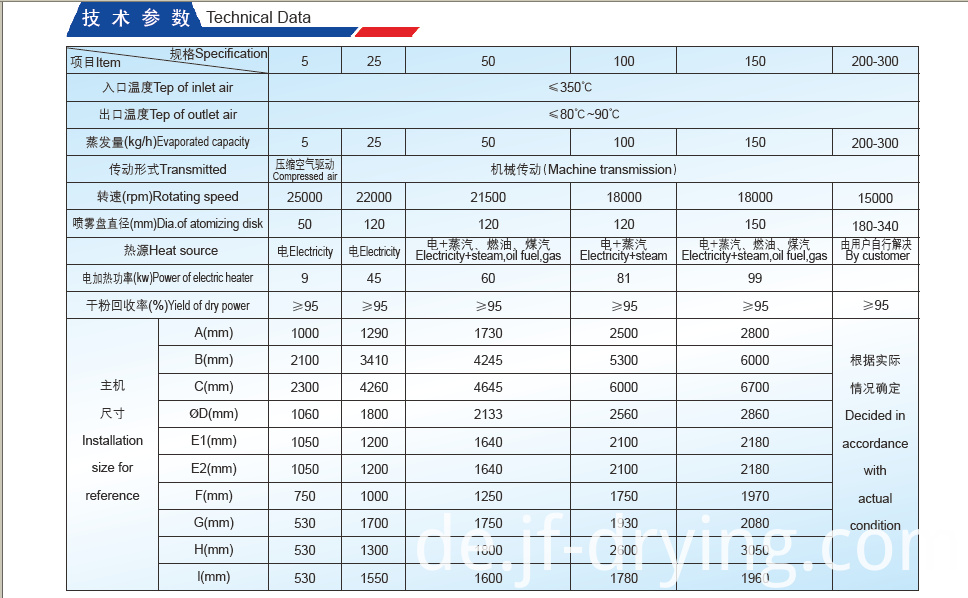 Zertifizierungen: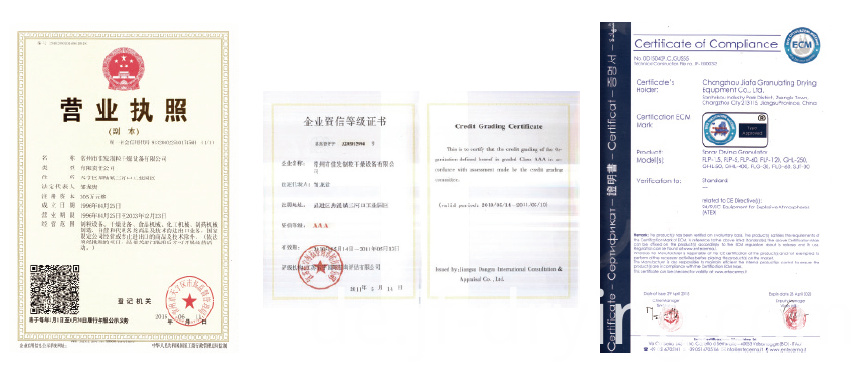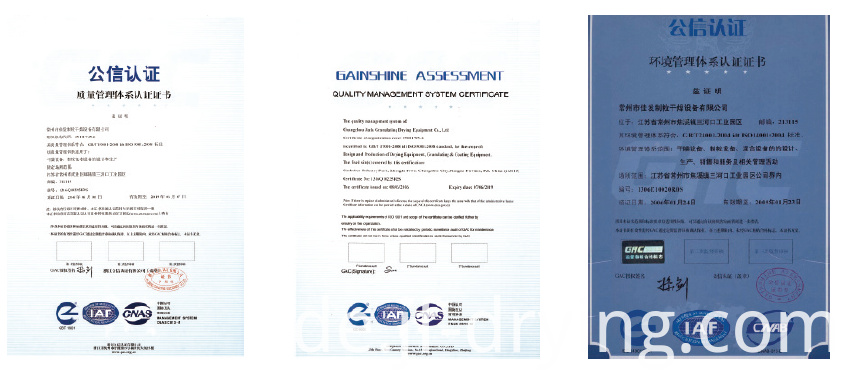 Firmeninformation:
★ Changzhou Jiafa Granulieren Trocknen Equipment Co., LTD ist ein Spezialitäten-Unternehmen in einer Vorbereitung Technik Forschung und Ausrüstung Entwicklung beschäftigt, ist auch ein Mitglied der Vereinigung der China Pharmaceutical Equipment Industry, High-Tech-Unternehmen von Jiangsu, nationalen Schwerpunkt neue Produkt empfehlen Unternehmen.
★ Auf der Basis von [Vollmischung "Fließbetttrocknung und Granulierung hat unser Unternehmen sukzessive [Regulierungsströmung" Fließbett entwickelt, das für [Bottom Spray "und [Tangentialspritzen" Granulieren Palettieren, Beschichten verwendet wird.
Unser Produkt dient hauptsächlich für Pharma, Chemie und Lebensmittel. Unser Produkt hat an viele Länder wie USA, Schweiz, Bangladesch, Venezuela, Argentinien, Spanien, Australien, Ecuador, Indonesien, Ägypten, Korea, Thailand, Türkei, Brasilien, Vietnam, England, Russland und so weiter verkauft.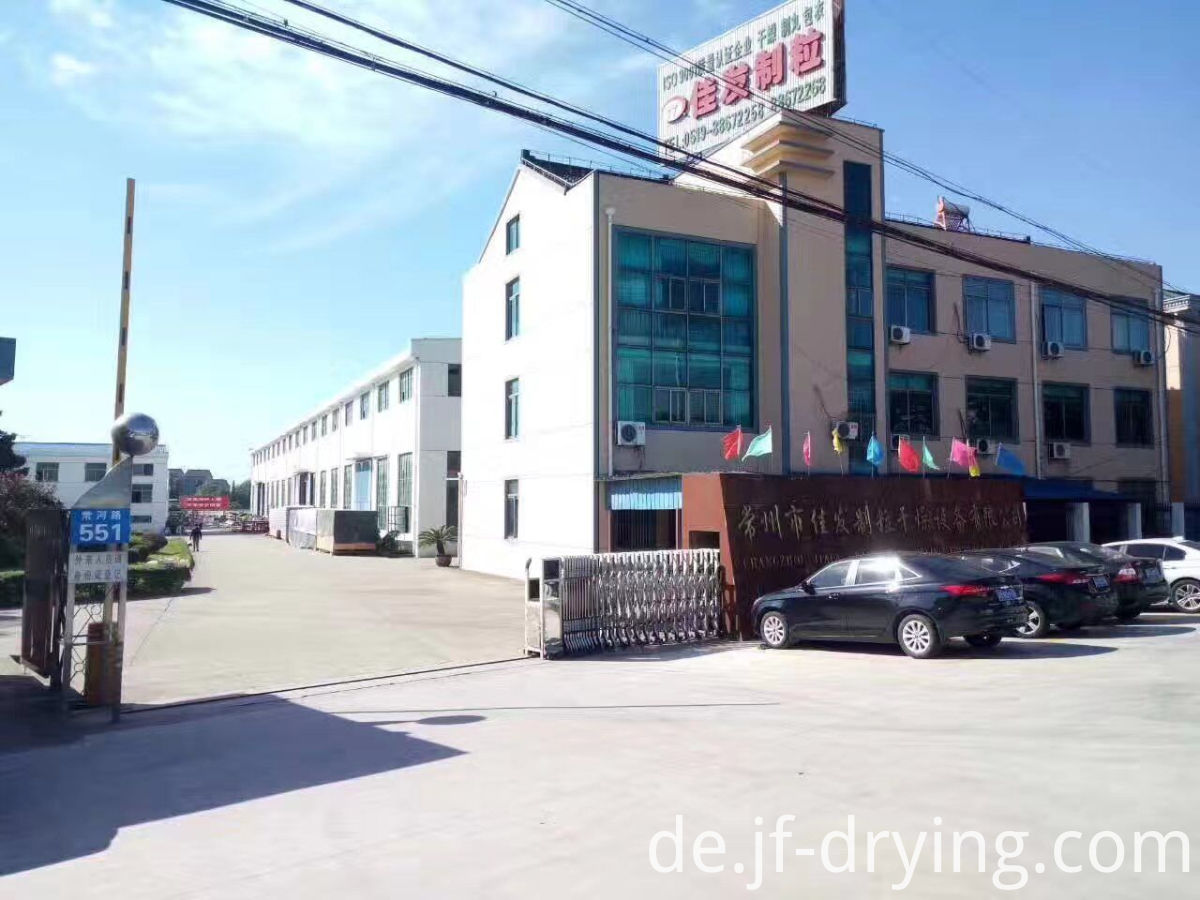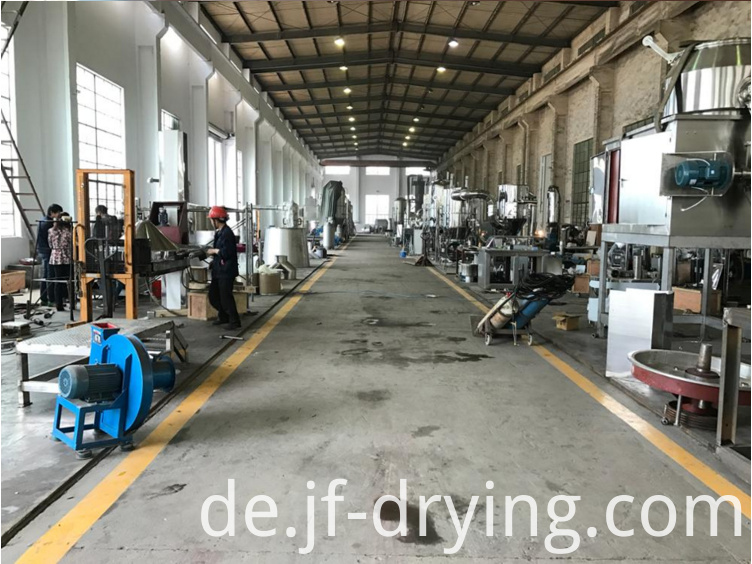 Produktgruppe : Trocknungsanlagen > Sprühtrockner